Ronde Barber has announced that he is returning for his 15th season as a Tampa Bay Buccaneer. I was thinking that I would be posting something about his career in honor of his retirement, but once again I have underestimated the man. I pretty much wrote him off after the '09 season just to see him comback this past season and have a very impressive year.
Barber, whose contract is set to expire in March, has played his entire career with the Bucs as a third-round draft pick in 1997. A five-time Pro Bowl selection, Barber, 35, is the only player in NFL history to record 40 sacks and 25 interceptions, three of which came during the 2010 season.
Ronde so impressed the coaching staff and General Manager Mark Dominik in the season finale that it led to Dominick to be quoted as saying "For the many years he's got in the National Football League and to play at that level and to feel like he knew what (Saints quarterback) Drew Brees was going to do on a majority of the plays was phenomenal. I was really impressed with the way he finished his 2010 season.''
I watched that game and Mark was right, Barber was as disruptive to the Saints game plan as a dinner bell during the taping of The World's Biggest Loser. He was all over the field making tackles and breaking up passes. His knowledge of opposing offenses and leadership will be especially valuable considering the Bucs talented, but inexperienced secondary.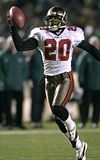 I have been a Bucs fan from the beginning and I don't think anyone has stayed with the team for 15 years. Ronde is the last player from the Super Bowl winning team, in fact it was his interception for a touchdown that sealed the deal at Philly in the conference championship game. He's been here so long that he remembers when they wore the orange uniforms for all the home games. Coach Morris says it isn't a question of if he'll be back, but how much he'll be making when he does. Considering his value to the team and the fans, he should do very well.